A figure 8 blind is a simple valve that is placed in the line between two flanges and bolted in place. One side of the figure 8 blind flange is open, known as a spacer, while the other side is blanked or blinded with a spade.
To change the valve from open to closed, all bolts except the pivot bolt are removed, and the Spectacle Blind is rotated on its centre hole so that the blind side is between the flanges. The bolts are then re-installed and tightened, and the side that protrudes out of the pipe indicates whether the pipe is open or closed.
This valve is commonly used for maintenance purposes when a section of pipe or a device needs to be isolated. Because this isolation is semi-permanent, it is considered a safe option, and safety is a primary consideration when using a figure 8 blind flange in maintenance operations. Moreover, these figure 8 blind flange are inexpensive and sturdy compared to traditional valves.
Standard: ASNI/ASTM B16.5 / 16.36/16.47A/16.47B B2220 – 2001, DIN2527/2636/2637/2638/2566/2576/2633/2635/2642/2653/2655.
Pressure Rate: 150LBS to 2500LBS / PN10 to PN400
Dimension: 1/2" to 48"
Material: Carbon steel, Alloy Steel, Stainless steel.
Sealing type: RF, FF, MFM, TG,RTJ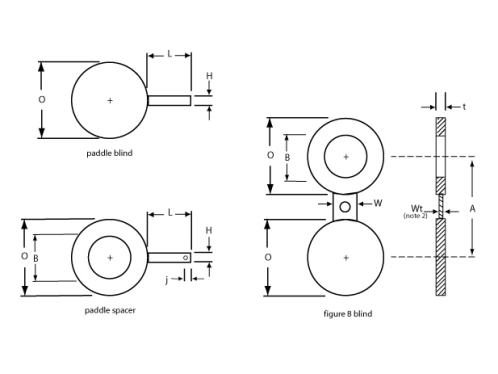 Pressure rating:
class 150LBS、300LBS、400LBS、600LBS、900LBS、1500LBS、2500LBS

Dimensions:
ANSI B16.5, ANSI B16.47, MSS SP44, ANSI B16.36, ANSI B16.48, API 605, AWWA AND DRAWING

Metrial:
· CS
Standard: ASTM / ASME A/SA 105 / 350 LF 2
· SS
Standards: ASTM / ASME A/SA 182
Steel Grade: F 304, 304L, 304H, 309S, 309H, 310S, 310H, 316, 316TI, 316H, 316L, 316LN, 317, 317L, 321, 321H, 347, 347H, 904L.
· AS
Standard: ASTM / ASME A/SA 182
ASTM A182 F1, F11, F12, F22, F5, F9, F91.
· Nickel Alloy
Standard: ASTM / ASME SB 564 / 160 / 472
Grade: UNS 2200 (NICKEL 200), UNS 4400 (MONEL 400), UNS 8825 INCONEL (825), UNS 6600 (INCONEL 600), UNS 6601 (INCONEL 601), UNS 6625 (INCONEL 625), UNS 10276 (HASTELLOY C 276), UNS 2201 (NICKEL 201), (ALLOY 20 / 20 CB 3)

As a Chinese manufacturer, Changhao is able to manufacture the figure 8 blind using test materials that meet customer specifications. typically, the figure 8 blind is made of carbon steel, alloy steel or stainless steel. Whether you want figure 8 blind flange protection for 2 weeks or 2 years, Changhao has a packaging system that will ensure that the eyeglass blinds are installed intact. If more robust corrosion protection is required, our sales team will be happy to provide more information.
In addition, specific engineering requirements may dictate that special materials and constructions are required to produce the figure 8 blind flange. As a fully ISO 9001 certified manufacturer, Changhao can customize products according to your specifications, including thorough testing and documentation. Changhao's system tracks all materials, and upon request, we can provide ITP and MDR. Your order can be packaged to your engineering or project specifications, and we can accommodate extremely short lead times.