Description
The weldolet is an innovative and versatile pipe fitting designed to provide a reliable and efficient means of branching pipelines. Made from high-quality materials, the Weldolet is available in various sizes to meet the specific needs of different applications. With a compact and robust design, the Weldolet can easily be welded onto the pipe to create a branch connection. The fitting is available in a wide range of sizes, ranging from 1/8 inch to 20 inches, and can accommodate pipe sizes from 2 inches to 72 inches. This flexibility in sizing makes the Weldolet suitable for a variety of pipe systems and configurations.
Dimensions
Type: Weldolet, Sockolet, Threadolet, Nipolet, Latoolet,
Pressure Rate: 150LBS to 6000LBS
Dimension: 1/8" to 20"
Material: Carbon steel, Alloy Steel, Stainless steel.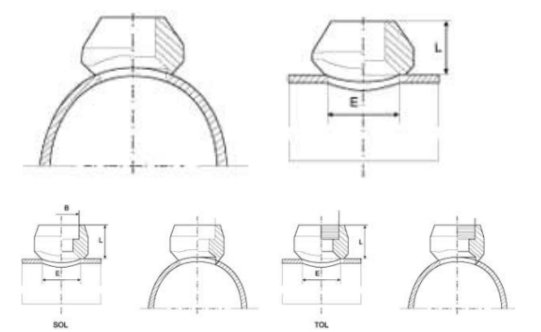 What is the use of weldolet?
Weldolets are used to create 90-degree (reinforced) stubs. The shape of the Weldolet ensures that there is little stress concentration on the branch pipe, thus providing overall reinforcement. On the branch side, Weldolets may have the same or higher progress as the running pipe.
Advantages of using Weldolets:
One of the primary benefits is the reduction in the cost of making connections to pipelines. This is achieved by avoiding the use of tees, which can be more expensive.
In addition, butt-welding ends are smooth, which facilitates the welding preparation and welding process itself.
Beveling is also done according to standards that are dependent on the thickness and pipe schedule, providing a consistent and reliable connection.
Another advantage is that Weldolets can be easily tracked through production certificates EN10204 3.1 and heat numbers, ensuring traceability and accountability throughout the production process.
We can supply Weldolet, Sockolet, Threadolet, Nipolet, and Latoolet in different grades and for different pipe schedules.